Create Imagination Fair Mentor
Thanks for signing up to mentor at the Imagination Fair!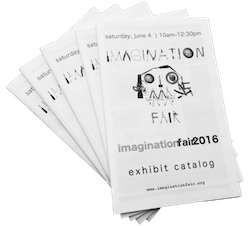 If you have not yet done so, please download and peruse the Mentor Information Packet (PDF).

All Mentors receive a quarter-page listing in the Exhibit Catalog for a photo and brief bio.

A quarter page is 5-inches wide by 1¾-inches high.

Entries may be edited for space considerations, as well as for spelling, grammar, and point-of-view.

To allow time for formatting, proofing and printing, please submit your Exhibit Catalog and "Mentor Button Sticker" information by Saturday, March 21, 2020.

Information collected here will appear on this website and in the Exhibit Catalog — unless otherwise noted.
You do not need to know everything requested to get started! You will be able to return to revise your entry as often as you wish.
Example of a 2016 Exhibit Catalog "Mentor" entry:


Note: This form is not perfect. If you experience any frustration, just submit your information via email instead — using this form as a guide for what to include.
---
• Enter your name as you wish it to appear.
• Have a nickname? It's your choice — you may use either your legal name (for example, James) or your nickname (for example, Jim Jam).
• If you would like to include your middle name, too, please do so.
• How this information will be used: Your name will appear in the Exhibit Catalog, on this website and on your Name Badge.