Camille A. Brown & Dancers
When:
Friday, February 20, 2015 -

12:30pm

-

1:30pm
Where:
Location
2004 Randolph Ave
Saint Catherine's University
Saint Paul
,
MN
55105
United States
44° 56' 4.074" N, 93° 9' 55.944" W
Who: This program is recommended for grades 4 through 12 (ages 9 through 18). Younger children who are able to be respectful members of the audience are welcome to attend. Parents are asked to use their best judgment as to whether or not their younger children will be disruptive to other audience members. All children must be accompanied by a parent or other responsible adult.
Everyone in attendance must have a ticket regardless of age.
How much:
Cost for Adults/Educators: $3.50
Cost for Children/Students: $3.50
Cost for Lap Seats for children under the age 2: $3.50

Please register by: Saturday, August 9, 2014 - 5:00pm
---
Description
This performance is at O'Shaughnessy Auditorium at St. Catherine University in Saint Paul.
Camille A. Brown has sought to defy the boundaries between dance and theatre. The company's new work depicts the complexities of carving out a positive identity as a Black female in urban American culture. Combining history and musicology with the fantastical approach of imagery this work sheds light on the grand narrative and dialogs about feminism, patriarchy, and how women negotiate themselves within this world. In addition the company will perform an excerpt from MR. Tol E Rance which celebrates African-American humor, examines "the mask" of survival and the "double consciousness" (W.E.B. DuBois) of the black performer throughout history and the stereotypical roles dominating current popular Black culture.
Learn more about this remarkable group:
Study guides are posted online 3 to 4 weeks prior the performance at www.ordway.org/education/studyguides/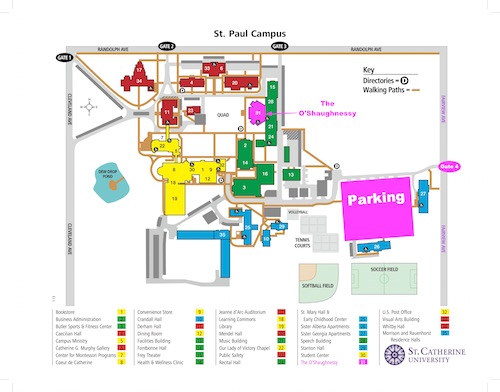 ---
Performing Arts Classroom Series Pre-Sale FAQ
How can I possibly know if I'll be available so far in advance?
You can't know it. What you can know is whether or not you are willing to ...
attend if you are able.
find a replacement for your family if you're not.
You'll receive an email reminder about four weeks before the performance. If your circumstances have changed, those four weeks should give you plenty of time to transfer your tickets.
Because the organizer will have already paid The Ordway for your tickets, transfers after the cancellation deadline will be your responsibility. Just post to Homeschool Adventures Yahoo Group that the tickets are available and ask interested persons to contact you directly about the tickets. Reimbursements would be handled between you and your substitute. (You are asked to inform the organizer of any transfers so that she can maintain an accurate registration database and so that she is not surprised or confused when your substitutes show up to claim your seats.)
These performances are heavily subsidized and highly popular, so please do commit to taking responsibility for finding a replacement for your family if you're not able to attend.
Why do I need to register so early?
The Ordway's highly affordable Performing Arts Classroom Series is extremely popular and many performances sell out the day they go on sale. Your volunteer organizer has reserved these seats for members of Homeschool Adventures, but she must pay for those seats by The Ordway's payment deadline or release them back to The Ordway for resale.
---
Join other Homeschool Adventures members at the following performances:
---
Payment information
Payment must be received by: Tue, Aug 12, 2014 - 5:00pm
Please plan to send your payment the same day that you register.

The organizer will expect to receive your payment within 3 days of your date of registration — or by the payment deadline above, whichever comes first.


Immediately after you register, you will be emailed payment instructions from admin(at)homeschoolrecess(dot)com.

Make sure your email filters recognize this address as a legitimate sender. If you don't receive this email, please check your spam, junk or bulk mail folder. Contact the organizer if you are unable to find it; if you receive no response to your email, please call the organizer.

You are not officially registered until the organizer receives your payment.


When the organizer records your payment, you will be emailed a payment receipt from admin(at)homeschoolrecess(dot)com.

The organizer updates payment records daily. If you've sent your payment and haven't received a payment confirmation, please contact the organizer by email or phone.


If the organizer doesn't receive payment within 3 days of your date of registration or by the payment deadline, whichever comes first, your family may be removed from the registration list.

You will be notified with an email from admin(at)homeschoolrecess(dot)com should this unfortunate event occur.

If you are unable to send payment immediately, please contact the organizer to make other arrangements. To help the organizer identify you in the registration database, please forward your payment instructions to the organizer along with your request.

This protects the organizer from non-payment due to payment instructions blocked by overly aggressive spam protection.


If you need to cancel your registration, please do so via an email request to the organizer.

Non-payment is not an acceptable way to cancel your registration. If you wish to cancel, please be respectful of the volunteer organizer's time and send an email request.

If you fail to send a cancellation request by the cancellation deadline, you will remain responsible for reimbursing the organizer for the cost of your family's participation.

---
Cancellation information
Cancellation deadline: Sat, Aug 9, 2014 - 5:00pm
TO CANCEL BEFORE THE DEADLINE: 
(1) Please let the organizer know as soon as possible via email. 

TO CANCEL AFTER THE DEADLINE: 
(1) Let the organizer know as soon as possible via email. 
(2) No refunds can be made as the organizer has already paid for your tickets. 
(3) To avoid empty seats, please attempt to transfer your tickets to another family by posting the availability to the HSAdventures Yahoo Group (and elsewhere as appropriate). 
(3a) Any reimbursements should be handled privately between you and your substitute. 
(3b) Please let the organizer know about the substitution. 
 
TO CANCEL ON THE DAY OF THE EVENT: 
(1) It is not cool to just not show up. Please let the organizer know if you are unable to attend — via email, text message or voice mail. 
(2) To avoid empty seats, please attempt to find a last-minute substitute for your family by posting to the HSAdventures Yahoo Group (as well as through any other other methods at your disposal). 
---
Additional information
Please arrive by:
Please plan to arrive by 12 noon in order to have plenty of time to find parking, check in with the organizer, visit the bathrooms and otherwise be seated by 12:15pm. 

Please plan to be early to avoid being late due to inadequate maps, confusing road signs, road construction, heavy traffic, parking difficulties, inclement weather or uncooperative children. 

If you find that despite your best efforts, you are running unavoidably late, please let the organizer know! You may reach the organizer by phone or email on the day of the event. Late arrivals are will be seated only at the desecration of the House Manager. 
Where to meet:
When you arrive at The O'Shaughnessy, please tell the ushers that you are with the Homeschool Adventures group. (There are likely to be several other homeschool groups attending the same performance, so you will need to know the name of your group: Homeschool Adventures). 

The ushers will not seat the group until all Homeschool Adventures members have arrived, so please retrieve your receipt from the organizer as soon as you arrive as this is how she will check-in participants. 

The organizer prefers to wait for other Homeschool Adventures members near the front entrance to The O'Shaughnessy. However, house management may request that the group wait elsewhere. Should that happen, ushers will be able to direct you to Homeschool Adventures group. 

The organizer plans to be wearing a bright yellow hat and a Homeschool Adventures shirt.
Food policy:
No food or beverages are permitted in the auditorium. 
Alternate plans:
This Homeschool Adventure will not be cancelled due to weather. Please plan accordingly and dress appropriately.
Parking information:
Parking can be difficult at St. Catherine University. Please plan for plenty of time to both locate parking and to walk to the auditorium. 

St. Catherine University's has been known to issue tickets to cars in the The O'Shaughnessy lot on the day of a school performance. If that is the case, you will either need to get a parking pass from the Security Office Building first or try and find a spot in the surrounding neighborhoods! The organizer will be seeking detailed information from St. Catherine University and The O'Shaughnessy as well as explicit permission to park in The O'Shaughnessy lot (Gate #4), but please be prepared for a difficult parking situation. 
 
Should on-campus parking be allowed, you must use the The O'Shaughnessy lot which is reached via Gate #4 from Fairview Ave. Parking is on the right. After parking you will need to walk west through or around a building to get to the auditorium entrance. It's much easier than it sounds, but you will need to allow extra time for walking. Please see the map at 
http://oshag.stkate.edu/sites/default/files/u85/parkingmap.jpg The O'Shaughnessy is building #31. The Security Office Building is building #25. 
Directions:
The O'Shaughnessy is located on the St. Catherine University campus. It's address is 2004 Randolph Ave, Saint Paul, MN 55105. It is closest to Gate #3 on Randoph Ave, but is reached via Gate #4 on Fairview Ave. Please visit http://homeschoolrecess.com/ft/24429 for a map.
---
Please login to register for this field trip.
If you have already registered for this field trip, please login to view your current registration status.
---
Groups: